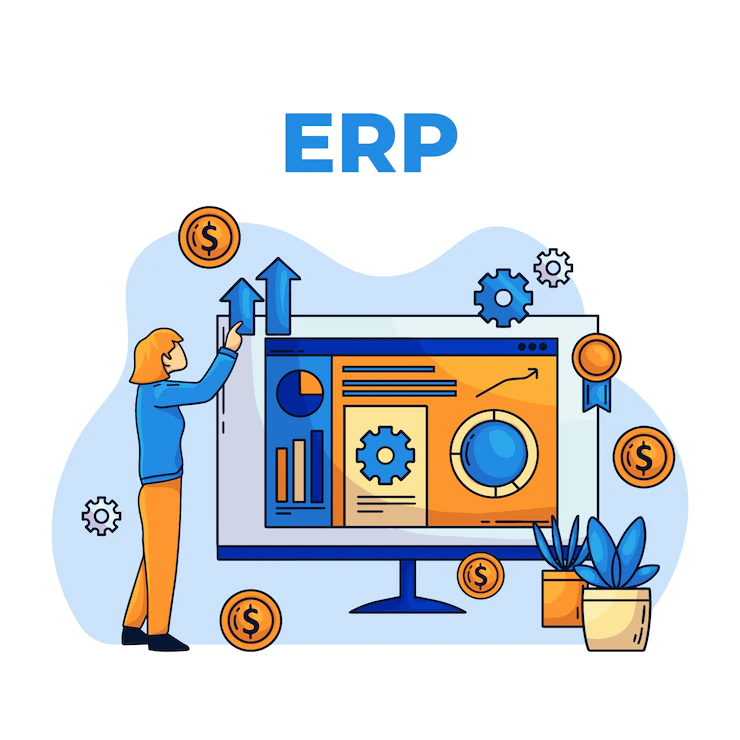 Top 10 ERP Trends in 2023
Scalability, flexibility, risk management, data security, compliance, etc., – the benefits of a good ERP system are manifold. But with the IT industry evolving constantly and new technologies bursting onto the scene every day, it can be tough to keep up. That's why we've curated a list of 10 ERP trends to keep an eye on in 2023.
1. A Bigger Shift to Mobile
The ERP system is no longer limited to desktop computers. Instead, mobile devices are increasingly being used to access ERP data and manage operations. This way, it's easier for companies to manage their workflows and for employees to access ERP data anywhere, anytime and get more done in less time. Favorably, mobile ERP also takes care of security by defining user permissions and allowing the business to control how users access ERP data. 
2. More Cloud-Based ERP
ERP systems have traditionally been installed on-premises, but as companies move toward a cloud-based model, we'll see a shift away from on-premises systems to cloud-based systems. Cloud-based ERPs allow for easy scalability and flexibility – something that can be particularly beneficial when your business is growing rapidly or your team needs to work from multiple locations simultaneously.
3. Advancements in ERP Intelligence
ERP systems are becoming smarter by the day—and this trend will only proliferate in 2023. As technology advances and becomes increasingly sophisticated, so too will our ability to harness its power through technologies like machine learning (ML) and artificial intelligence (AI). As these technologies become more capable of handling complex tasks without human intervention, they'll be able to help businesses make better decisions faster than ever before.
4. Increased Focus on Deploying IoT
The Internet of Things (IoT) has had a profound impact on the way enterprises do business. The growth in IoT-enabled connected devices has increased the amount of data generation. This has led to an increased demand for ERP solutions to manage and integrate this data with existing enterprise systems.
5. A Greater Need for Industry-Specific Solutions
Today, organizations are very particular about customizing their resources to meet the needs of their industry. Although generic, off-the-shelf ERP software solutions offer a lot of features, they often fall short when there's a need to meet industry-specific requirements.
Also Read: 5 Reasons Why You Need to Onboard an Expert ERP Consultant
Consider this; a small startup might need to customize its ERP software to track inventory, manage customer relationships, and track sales within one system. A large corporation with multiple locations might need an ERP solution that allows it to share information between offices without investing in separate systems for each location.
These companies need different software solutions because they have different needs—the same is true when you're building your own customized ERP solution. You don't want something generic; you want something tailored specifically to your company's needs.
6. More Focus on Security
As per a report released by IBM in July 2020, the average total cost of a data breach is around $3.86 million. So, it doesn't come as a surprise that, in 2023, companies will focus more on security and ensuring their ERP systems are protected and in compliance.
7. Two-tier ERP
This is a trend that's been around for a few years, but it's going to get even bigger in 2023. Two-tier ERP means that you have an application and a database tier. The application tier is what the users see and interact with, while the database tier is where your data lives. Two-tier ERP allows for better scalability and reliability because you don't have one huge application running on one big server. 
8. Fully-Integrated ERP
In the past, ERP systems were designed to manage a single business function. But as business processes have become more complex and interdependent, many companies want to combine all their operations in one platform. This is often referred to as a "fully integrated ERP." For example, a company may want to integrate its sales and marketing functions, supply chain management, manufacturing operations, customer service, and financial systems to share data across departments and make informed decisions.
9. Plug-n-Play ERP Integration
ERP has never been more flexible. Companies are increasingly turning to plug-n-play ERP integration, which allows them to select their systems and easily integrate them with other business tools. This can be a great way to save money on the IT budget and get the system that works best—but it also means that businesses have to make sure they pick the right package for their needs.
10. Continuous Evolution
All the above trends are going to continue in 2023, but they're also going to get better. ERP systems have been evolving since their inception in the late 1960s, and they're only going to improve. The advancement of technology and the increase in the number of companies using ERP software means it is becoming more sophisticated. The need for companies to adopt new technologies, such as AI and ML, means that ERP systems will change to accommodate these innovations. Companies will look for more flexibility and control over their data and processes.
Summing Up
ERP systems have evolved a great deal over the past few years. The support of cloud, AI, ML, etc., will only serve to strengthen what they are capable of. As such, organizations will be able to focus more on the strategic facets and needs of the business itself.
Want to leverage the power of ERP software for your business? Connect with us today!